Car Compressors Minneapolis, MN
Is your air conditioner having problems? Don't want to pay the high price to fix it? We have the solution – a used air conditioner compressor. You'll pay a fraction of the cost of a brand new part. Plus, we can get you the manufacturer's quality part for most vehicles, both foreign and domestic.
Shop our wide variety of like new compressors for:
Search for compressors with our convenient online auto parts inventory. If you don't find what you're looking for, call Highway 101 Auto Salvage at 952-445-7020.
Car Air Conditioners Minneapolis, MN
Did you know that one of the leading ways to save money on car air conditioner repair is by buying a used auto part? You can save money and get a high quality part when you rely on Highway 101 Auto Salvage. Used OEM auto parts are a safer purchase than most new, aftermarket parts because OEM parts are made to fit your vehicle perfectly.
Find high quality OEM air conditioner parts: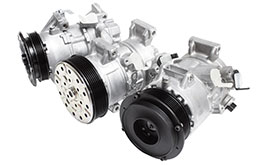 Use our online auto parts inventory to search for the air conditioner parts you need. If you're unable to find a match then just call Highway 101 Auto Salvage at 952-445-7020 and we'll see how we can help.